Neelke Doorn and Diane P. Michelfelder, Editors-in-Chief
Michael Poznic, Managing Editor; Robert Rosenberger, Book Review Editor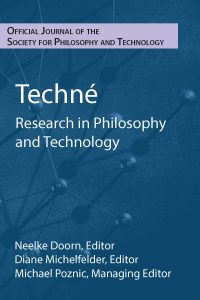 Techné: Research in Philosophy and Technology is a peer-reviewed forum that serves the need for sustained philosophical reflection on our technological world. The journal is devoted to the philosophical analysis of technological systems and to reflections on the art, craft, science and engineering of making things and getting things done in the world. It considers the nature and structure of technology as well as its implications for human subjectivity, for the norms and values of societies, for the ecology of a peopled planet. Techné is not partial to any particular philosophical tradition and encourages submissions from all philosophers in all fields. Established in 1995 as an electronic journal, Techné is sponsored by the Society for Philosophy and Technology.
Editorial Advisory Board
Philip Brey, University of Twente
Ruth Chadwick, Manchester University, UK
Mark Coeckelbergh, University of Vienna, Austria
Inmaculada de Melo-Martin, Weill Cornell Medicine, Cornell University, USA
Sven Ove Hansson, Royal Institute of Technology, Sweden
Don Ihde, Stony Brook University, USA
Sheila Jasanoff, Harvard Kennedy School, USA
Deborah G. Johnson, University of Virginia, USA
Carl Mitcham, Colorado School of Mines, USA/Renmin (Peoples) University of China
Joseph C. Pitt, Virginia Tech, USA
Thomas M. Powers, University of Delaware
Sabine Roeser, TU Delft
Kristin Shrader-Frechette, University of Notre Dame, USA
Evan Selinger, Rochester Institute of Technology, USA
Mariarosaria Taddeo, Oxford Internet Institute, University of Oxford
Shannon Vallor, Santa Clara University, USA
Pieter E. Vermaas, Delft University of Technology, the Netherlands
John Weckert, Charles Sturt University/CAPPE, Australia
Access free for active SPT members.
To submit your manuscript for consideration for publication in Techné, please click here.